How about working from your home's comforts? It's the best way to work from home effectively. You can effortlessly get to work and care for your home simultaneously, or perhaps organizing your home's small area into a workplace would be an exciting thing to do.
Creating an office inside your house or, rather, a home office would be quite tricky but don't worry now. There are various ways present that can enable you to build your intended home office, and we would be discussing it below.
What are the best places where I can build a Home Office in my home?
Loft (Loft conversation)

Outbuilding

2nd reception room

Side Garage conversion into Habitable room, to be used for Home Office
How do I build a home office efficiently?
Successfully building an efficient home office is quite a difficult task but not impossible. There are several things you can notice– its functionality, personal space (for work purposes), specifications, etc.
The first thing in an efficient home office creation is its location inside your house and the best option is a loft conversion. Loft conversion means turning your Loft into a functional area that would be useful for several purposes. The Loft will be distant from other rooms, promising less noise. However, if a loft conversion is unavailable, there are other options also.
Another option is converting the outbuilding into a home office. It's perfect since the outbuilding is situated in the garden and not connected to the house. You wouldn't get any distractions there, and the designing process for it will be easier as well.
Another option you can select is a 2nd reception room. Often, people utilize it as a dining room, but you can prepare it to be any room you like. Here, the best thing to do is add a home office to the 2nd reception room since it would be efficient. You may as well get side garage conversions and build the home office at that place.
Even your garage is situated at a place where there would be fewer distractions, and after you go through the side garage conversions, it can turn into a habitable room to begin the home office creation.
Retaining the necessary aspects for work in reach is essential. You wouldn't prefer to waste time finding the crucial files or books while working. Thus, putting the important stuff, you would want during the working hours in your home office would be advantageous. Let's get onto the means to build your home office below:
You need some Natural Light
Natural light is quite essential in any home office. Wouldn't it be amazing to see some amount of sunlight peeking through the windows, making you feel special? Yes, it would!
Natural light might enable you to know a day's timings– whether it is day or night. However, the same natural light (if too much sunlight is there) can cause problems. Thus, you should invest in sunlight blinds to not incur problems due to sunlight when operating on the computer. The correct positioning of your desk, so the sunlight doesn't bother you is quite crucial.
Little space– How to use it effectively?
If you possess a compact area and think of creating a home office efficiently, you need creative ideas. It would be better when putting stuff on walls to preserve space.
You can also add mini bookshelves to your wall but add some planks to walls to keep books there. It could save space when adding a bookshelf. If you can, then attaching the monitor to the wall would be great to save space on the desk. You can then place everything else you like on the desk, such as files, documents, notepads, and so on.
In what place do I keep my chair?
Placing a desk in any home office might seem a small task, but it's crucial. The sights you will be able to see while working depend on your desk's location. Mostly, people place desks facing their walls in their home office. 
However, it might not be an excellent idea for all. It might be that you will get your ideas blocked by facing your wall the whole day. Have you ever seen a desk in your office facing a wall? No.
Then again, your colleagues or clients may visit– how would it seem if you are facing the wall and not them? Awkward.
Thus, position the desk at a place where you can achieve nice views and face your visitors while working.
Adding the most necessary thing
What do you think is an essential thing you would need in an office apart from a computer? It's a chair– since you will spend the whole working hours upon it.
Office work can put pressure on your spine, leading to health issues, which is not beneficial. Thus, a spine-friendly chair is a must-adding factor to your home office. Add office-feeling to your home office by adding an office chair that is good for your back.
Adding lights and maintaining storage
Both lights and storage are essential for creating a home office. When talking about light, people often make the mistake of adding too much or too harsh ceiling light– it is a mistake. The too intense ceiling light can make your working environment uncomfortable. Thus, consider having a light shade light to avoid harsh lighting.
Another important thing is storage space in your home office. Why is that?
Well, without adequate storage space, your working space would look cramped. Storage is a must, especially if you run your business from your home office. As necessary as storage may seem, it is crucial to know that it doesn't always come in handy. If you don't have work that takes much place (such as having printers or other technical stuff), the extra space will go to waste.
Thus, add storage to your home office according to the requirements.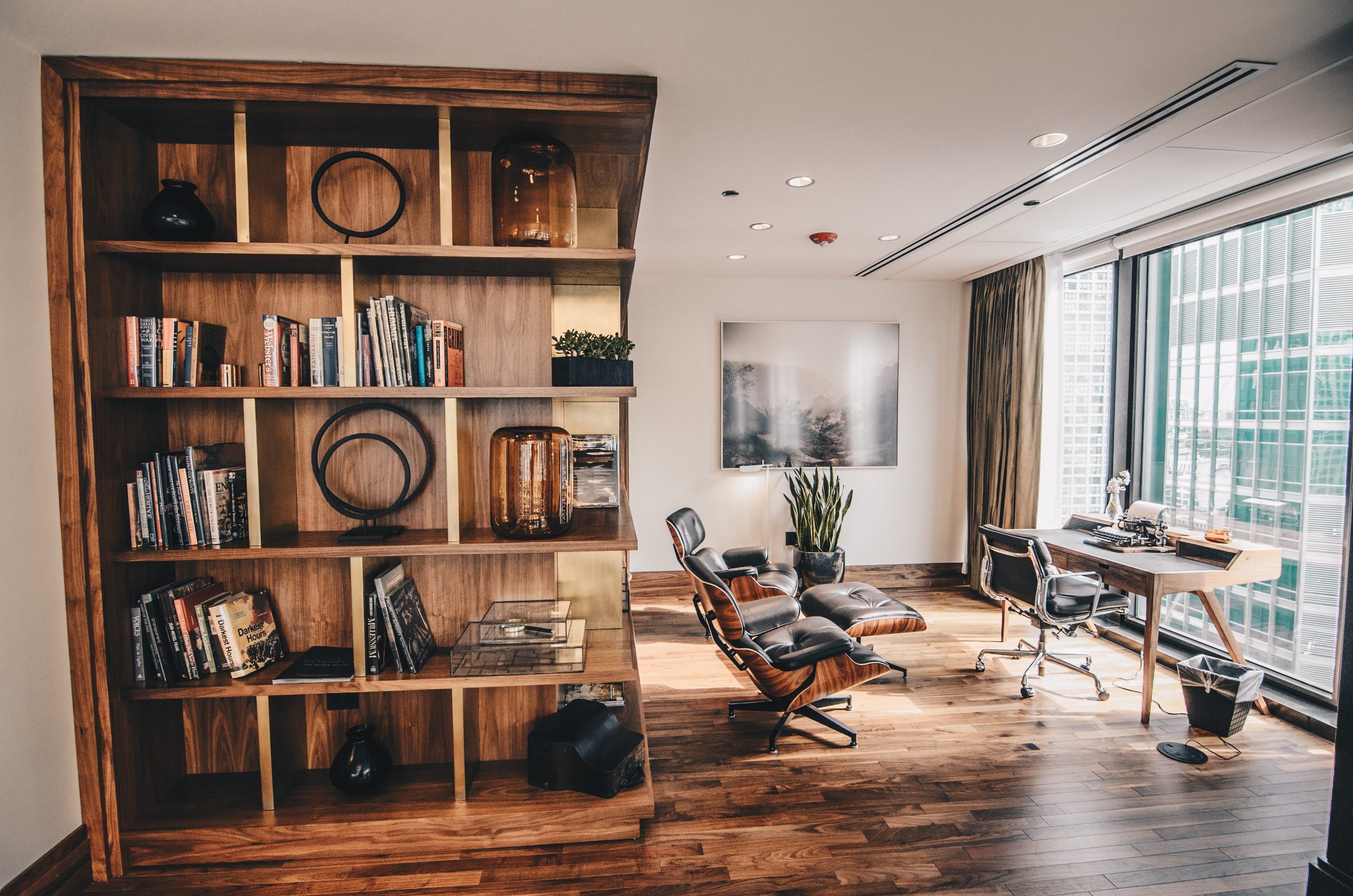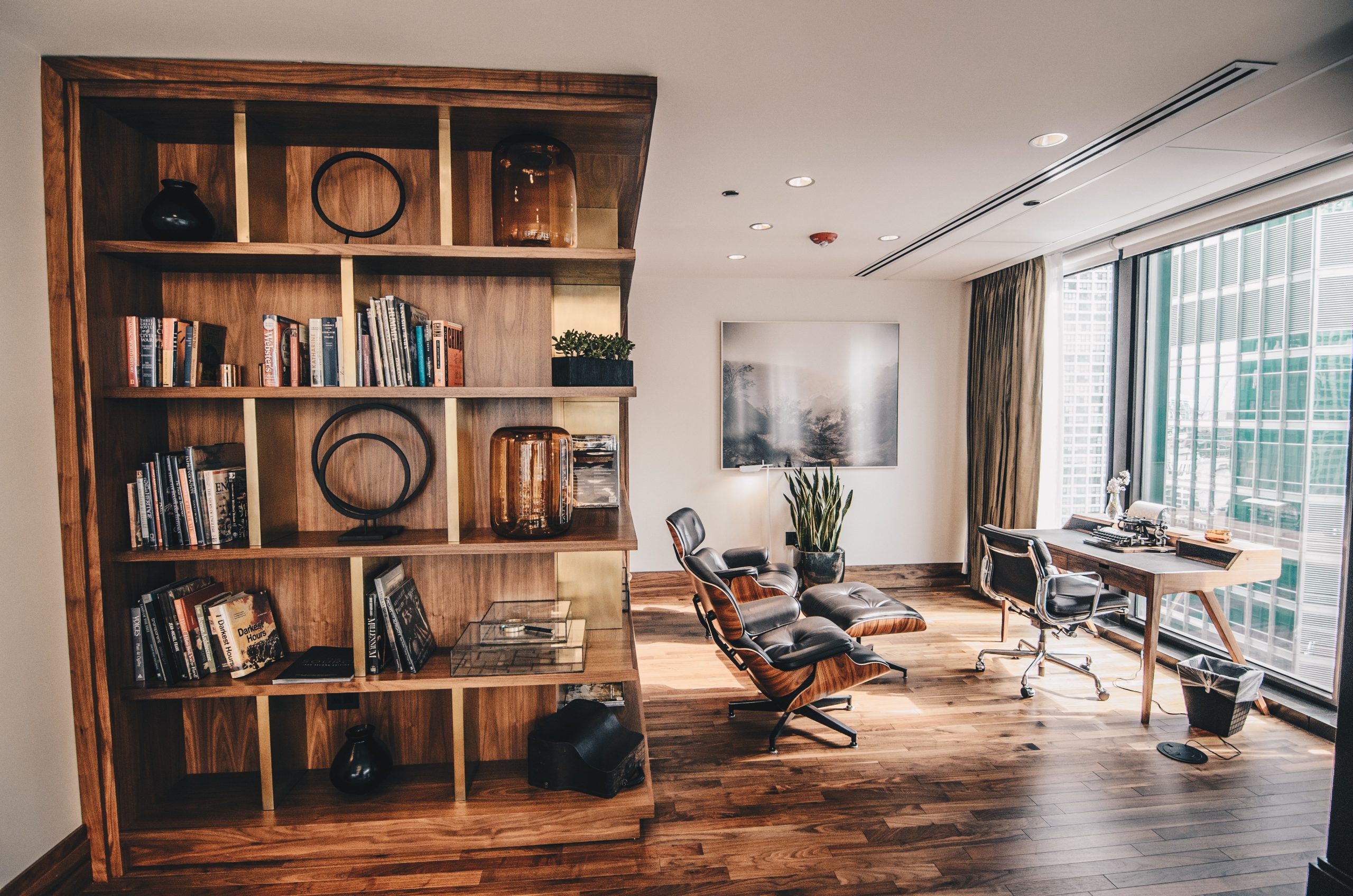 How to add an "inviting vibe" to my home office?
The addition of 'inviting vibes' depends on your home office's designs. Thus, you should focus on it and create a home office that can welcome people just by its looks. You can do it by adding wall painting or wallpaper– don't let it stay plain white. 
You can also add decorations to your home office that will make it look attractive. Decorations include paintings, posters, flowerpots, etc. It will also be of great use to work more efficiently since you would love to continue working in a beautiful room.
Again, people would only feel welcomed towards your home office if they can sit there comfortably, and to do that, you need chairs. Not only do you require to add a chair for yourself, but extra chairs for other people who might visit the home office. If you feel you can, then add more- a coffee table will complete the home office.
How to add a professional look to my home office?
Often, there is one problem with home offices, and it's the lack of professional vibes. It happens because people often mix up between office and house in home offices. Now, if colleagues or clients visit your home office, how would they feel to see a lack of professionalism in the office's looks? Thus, you shouldn't add any unrelated items to your home office. It will ensure that you are dedicated to only your work.
You can add things related to work like– a professional-looking work calendar, bookshelves, PC, desk lamp, etc. One more thing that is feasible here is keeping your home office tidy. It is the best way to maintain professional looks in your home office.
How do I convert my home office to a comfortable place?
Only adding professional looks to the home office isn't enough. What about your comfort? It would be better to possess a comfortable workplace to make your work results extra useful. You can add wallpapers that can comfort you in some way. 
Also, you can add some armchairs or sofas with soft cushions that can deliver Your comfort. You might add some pictures in the home office. The pictures of you, your family, or your friends would be better.
Using Smart Home devices in my Home Office:
You can use smart household devices to have better benefits for your Home Office. Some gadgets you can use are voice assistants, home security cameras, gadgets to control your home's lights, etc.
Adding a voice assistant in your home office would be highly beneficial for several reasons. This way, you can get a personal assistant whom you can use any time.
A voice assistant (digital assistant with voice-enabled features) mostly comes in the form of speakers. It comes with voice recognition features through which you can give voice commands to it, and it will fulfill every possible command of yours. For example- You can control most of the gadgets present in your home with the help of Alexa; you can also use Google Assistant for voice commands.
Another gadget you can add is security cameras in your home and monitor it from your home office. If you have a kid, then you can keep watch over them through such cameras.
Other than that, you may add several such devices in any home office and even add a technological and modern look to it.
Finalizing the home office:
After attaining adequate knowledge of creating a home office, why not put it to use?
When you possess the essential stuff, and it's in your budget, it would be perfect. Imagine having a home office similar to what you have dreamt of—possessing all the professional requirements and a comfortable working experience. You can add a tint of natural light to have a fresh feeling and decorate your home office to add an inviting look.
Many such factors can make a home office efficient and a perfect work setup at home. Thus, if you follow our advice, you can finalize the home office effectively.
How can Elan Arch help you?
We at Elan Arch are experts in building, conversion, and extension projects in architecture. We have professionals and experts in the building and designing field that can help you to create your ideal home office.
We can provide designing help and can consult you with some great home office ideas as well. Thus, if you wish to build a home office that meets all your demands, please contact us. We are here to only provide help– in any way we can. Contact us, and we can discuss the details.